Venice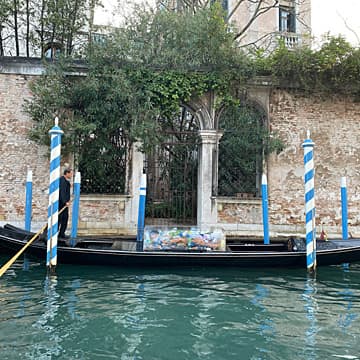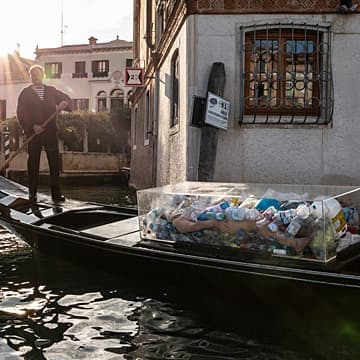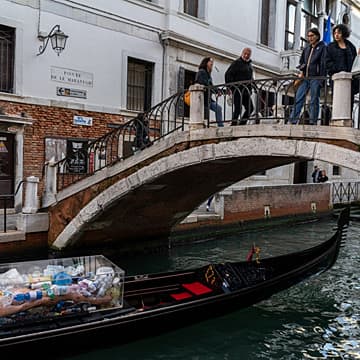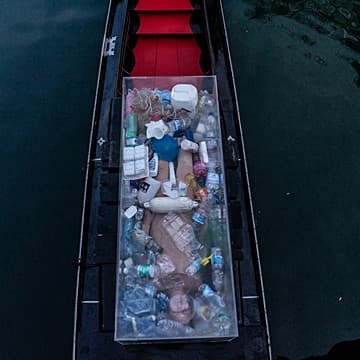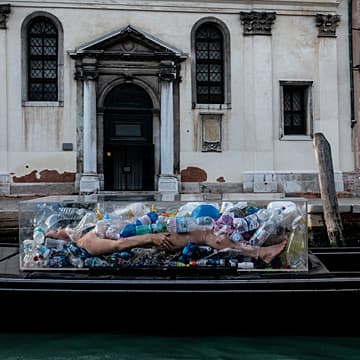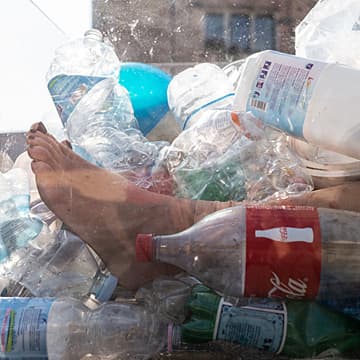 Moab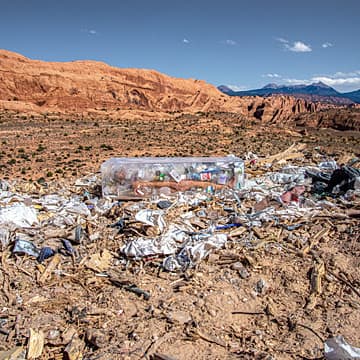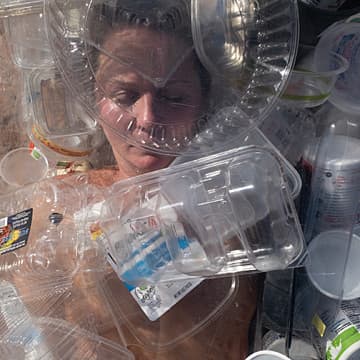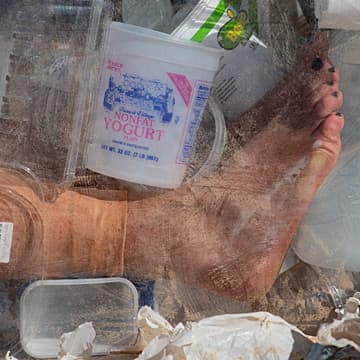 Death by Plastic
2019–ongoing
READ IMPORTANT INFO ON SINGLE USE PLASTICS HERE
On November 7, 2019, my body rested in a casket made of transparent Plexiglas filled with fishing nets and single use plastics. A gondola carried the casket, silently across the canals of Venice, drawing attention to major causes of plastic pollution locally and globally. My ongoing environmental concerns led me to address the urgent issue of the single use plastics crisis. Plastics are an undeniably useful material, but they are also one of the leading causes of pollution and climate change on the planet. For several decades countries around the world were sending their plastics to China where some types were recycled into new products, while the less desirable ones were landfilled. China's recent refusal to accept these materials is a wakeup call for all countries faced with not only a glut of plastic but also a lack of infrastructure to process them. The result of my research is a new series titled "Death by Plastic."
In the summer of 2019, I performed "Death by Plastic" for the first time in Moab, Utah, a small community seasonally infiltrated by tourists who come to explore the extraordinary pristine landscapes but leave behind large quantities of refuse which the local municipality is left to manage. I have been creating art in the area for nearly two decades and have observed the community become incrementally more sustainable. When I discovered that only plastics #1 and #2 were now being recycled, and everything else was being sent to the landfill, I felt like I had been hit by lightning. After a sleepless night, I decided to build a clear casket where my body would lay covered by plastics 3,4,5,6 and 7, which were longer be recycled. The work was photographed on the Moab landfill, where the plastics would eventually end up.
Venice is facing similar issues but on a grander scale. Thousands of tourists invade the city daily, leaving behind tons of waste, much of which is single-use plastic bottles. On November 7, 2019, my body rested in a casket made of transparent Plexiglas filled with fishing nets and single use plastics found in the laguna. A gondola carried the casket silently across the canals, drawing attention to major causes of plastic pollution locally and globally.
Part of the problem is that as consumers we have become incredibly lazy. The larger issue, however, is that corporations keep producing and wrapping products in plastics which are often not recyclable. For decades plastics producers have been misleading us into thinking that our plastics were going to be recycled as long as we would rinse and carefully sort them by number, when in fact most of the plastics ended up being incinerated or landfilled. The responsibility to solve this dilemma lies not only on the consumers but expressly on the corporations producing any products that are packaged in plastic. We need to make a significant paradigm shift and be willing to change our habits - as consumers, as product and packaging designers, and as corporations.
This piece came about from a feeling of helplessness (in terms of my own consumerism), but also as a way of drawing attention to the items that we think (or hope) are getting recycled and are instead being landfilled. Our planet is being smothered in plastic and unless we find solutions very soon there will no way out.